Industrial Kinetics is supplying a pair of dual strand in floor vehicle slat conveyors for a large vehicle manufacturer. The picture above is our proud lead assembly team for this project next to one of the four drives used on these two conveyors. Also, shown below, is a model of two drives and some of the 900-foot long conveyor section.
Some of the impressive specifications for this project include:
Drive loading per conveyor. How much the conveyor has to pull

770,000 pounds of vehicles
500,000 pounds of conveyor chain
1,270,000 pounds of material

Speed (Continuous running): 0.75 to 2.25 FPM
Our very unique application for indexing operation runs up to 30 FPM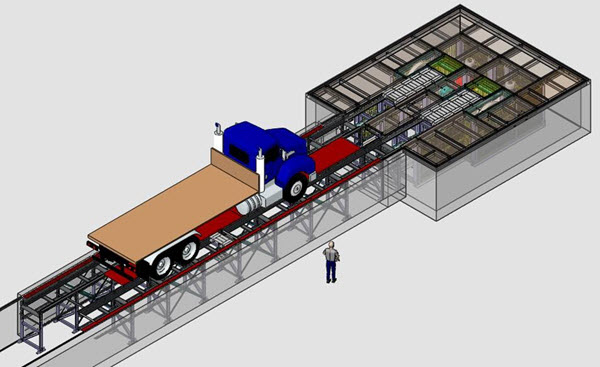 We included control features designed to provide operations with the function, visibility, and safety for the application. The passion to problem solve, knowing each customer is unique, and the experience to customize conveyor systems to individual businesses is why Industrial Kinetics, Inc. is the best company to meet conveying needs.