Manual Palletizing Equipment
Our Pallet-Pro equipment allows workers to form pallets more quickly and accurately. Its galvanized, formed sheet-steel construction and easy-bolt assembly are designed for years of maintenance-free service. Pallet-Pro's unique design provides a backstop on two sides of the pallet against which cartons may be quickly tossed as opposed to slowly placed, This allows workers to spend more time stacking and less time rearranging.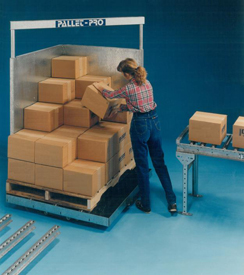 Who needs a Pallet-Pro?
Distribution Centers
Truck Lines
Small to Medium-sized Manufacturers
Back-up to automatic palletizing equipment
Anyone who wants higher productivity, lower labor costs, and fewer work-related injuries
A few different models exist to accommodate different application needs:
Model F: A fixed-position unit for situations where most movement is done with pallet jacks or forklifts.
Model C: This is essentially a fixed-position unit, but designed for high-volume needs. This model contains a flow-rail deck on the base of the unit to allow operators to manually push the fully loaded pallet onto an adjoining piece of conveyor for future pickup. In this arrangement, operators can instantly begin to load the next pallet without relying on instant removal of the pallet.
Model R: A rotating unit; this is most efficient where floor arrangement requires that pallets be rotated before discharge to the forklift pick-up conveyor. The rotating feature can be locked in any orientation.
Our standard deck will accommodate up to 48" x 48", but we are always willing to create something to meet your specific need.
To find out more information about this product line, contact us or request a quote.