Manual Palletizing and Pallet Handling Conveyor System in Distribution Center
The Problem
Ergonomics: The specified system provided no means of replenishing pallets on the pallet build stations. Forklifts would be forced to deliver stacks of pallets underneath down-lines. Operators would be forced to manually lift and place 50# pallets from the stack to the pallet build stations.
Complexity: The (22) manual pallet build stations required inline transfers and operators to provide traffic control for incoming pallets to the trunk line. This offered the possibility for errors and jams.
Cost: The specified layout was more costly as an initial investment as well as ongoing costs to maintain the additional equipment.
The Solution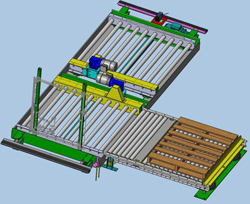 Industrial Kinetics concepted a high speed low profile dual deck "Smart" transfer car system concept with remote wireless communication to the main control system. An automatic pallet dispenser feeds the "smart car", each time it cycles home to drop off a completed pallet. The empty pallet is then discharged onto the pallet build station as the completed pallet is removed.
The Benefit
The "Smart car" concept carries onboard intelligence, significantly reducing the amount of wiring. The result is a "clean" low profile side mounted bus bar system. The "Smart car" also eliminates the need for…
Traffic control by operators.
(22) Inline transfers, reducing maintenance.
Empty pallet handling by operators, reducing potential injuries.
The automatic pallet dispenser provides for "single point" fork truck drop for empty pallet replenishment. The change in pallet orientation through turntables allows for all pallets to be handled "the easy way," decreasing the opportunity for jams and transitions problems. Zero Pressure pallet accumulation insures proper conveyance and accumulation of pallets when transporting and feeding the dual stretch wrappers.
Manual Palletizing
Industrial Kinetics Manufactured Products for This Project
Low profile Dual Deck "Smart" Transfer Car with a 9" Top of Roller, with all track and accessories
Custom Pick-Up and Delivery Pallet Build stations which oriented the pallets "the easy way" with a very low profile to allow for stacking of cases up to 84" tall
Pallet handling conveyors including Chain Driven Live Roller, Zero Pressure Zoned Pallet Accumulators, Turntables, Gravity Roller conveyor
Custom safety gates at the pallet build stations
Fork Style pallet dispenser
Integration of two stretch wrappers
Controls system
Pallet Handeling Systems
 View or download the pdf version of the articles seen in Modern Materials Handling by clicking on the images below.