Food Packaging Conveyors
Packaged food production techniques present a range of technical challenges, from maintaining pinpoint control over manufacturing and packaging processes to storing and distributing ready-for-market products. We have developed a complete range of advanced solutions that leverage cutting-edge technology to streamline production, packaging, and inventory management tasks in the food industry.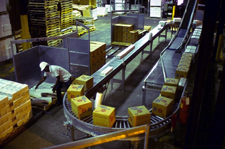 Food Packaging Conveyors
Our standard product lines have been developed to support case packing, conveyance, and palletizing processes. Options include:
Belt and live roller conveyors: These standard belt-driven systems feature adjustable pressure rollers and a range of belt speeds, and can be designed to include accumulation. They are ideal for applications involving period interruptions to product flow and situations where items must be sorted off main lines for further operations or packaging.
Case-turning conveyors: Case turning systems eliminate the downtime and accompanying costs associated with misaligned product cases and production-line jams.
Coding conveyors: Automatically manage package code printing needs while improving and streamlining production documentation procedures. Track and trace solutions are also available for lot or unit identification and tracking.
Pallet conveyors and accumulation food packaging conveyors: These versatile systems can be used in a range of production environments, including cooling tunnels, freezers, and pre-shipping stages. They can also be used between the palletizing, product wrapping, shipping preparation, and storage phases.
Freezer flow rack systems: Manage high-density storage and conveyance needs in sub-zero environments with our configurable and customizable freezer flow rack systems.
Stacker crane interface conveyors: Facilitate the precise presentation and transfer of pallet or unit loads from primary conveyor to stacker cranes with our innovative interfaces that support quality control while reducing costs. Profile checks and weight checks are some of the features that are incorporated into the ASRS interface conveyors.
Supporting Systems for Packaged Food Handling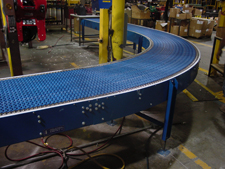 IKI also supplies palletizer feeding, accumulation, and robotic interface systems for deployment in food plants, as well as technologies that facilitate efficient, thorough wash-downs of stainless steel production equipment. In addition, clients can take advantage of our automatic guided carts (AGCs) to manage product transport needs.
To learn more about our advanced range of packaged food handling systems, or to obtain a quote, please contact an Industrial Kinetics customer service representative by phone. You can also fill out our brief online inquiry form, and a team member will be in touch promptly.
read more