Heavy Duty Conveyors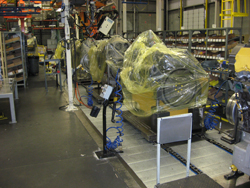 Industrial Kinetics provides heavy duty conveyors to many of the world-leading heavy equipment and large, industrial equipment and infrastructure manufacturers. Working with our customers we develop heavy duty conveyor equipment and system solutions that take into consideration the following key items:
Design rate / Takt Time
Buffer , surge accommodations
Material delivery to the line
Operation stations / interface
Torque Tool Conveyor Control Interface
Physical layout and building constraints
Cost / Value
Conveyor Equipment Design / Conveyability
Conveyor Equipment service factor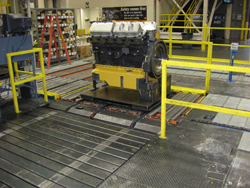 Often, we are designing specialized equipment around a specific unit in your product or assembly line. Sometimes, it takes a custom piece of machinery to accomplish your heavy assembly or delivery task. At Industrial Kinetics, we are able to take your product and create a unique and intuitive conveyor design that will help you keep costs down, make more aggressive rates, and keep safety a priority.
8K LB Roller Conveyor & Chain Transfer Efficiency Gain