Coding Conveyor Systems
Industrial Kinetics coding conveyor is an innovative labeling machine that applies barcodes to cases, verifies the barcode presence and readability, verifies the barcode value, and prints human readable dot matrix text on the case. The approach to case labeling satisfies many distribution and customer facility requirements for distribution systems. One of the benefits that manufacturers see by using barcode print/apply units and online printed human readable text is the reduction of inventory in pre-printed customer or product specific cases. Case inventory should not be a factor of, or have an effect on your production schedule.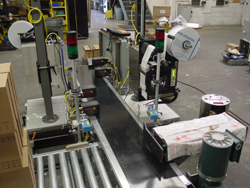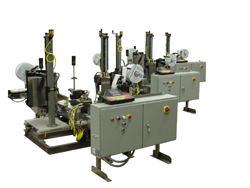 The applied barcode labels will are verified against the "taught" label to ensure that labels are present and readable and the correct value. No read or bad read conditions on either one both barcodes are recorded and can result in a case reject. Often times, the equipment is shutdown or a signal is sent to the plant if there are multiple sequential rejects. In addition to the barcode application and scanning, there are optional dot matrix human readable inkjet printings. A typewriter-style keyboard and pop-up menus make the printer controller easy to learn, easy to operate, and easy to program. The coding conveyor print/apply units are RFID upgradable, making them ready for the next step in case level coding.
This equipment is used in case rate applications from 10 cases per minute to 55 cases per minute.
To find out more information about this product line, contact us or request a quote.
read more