Heavy Duty Drag Chain Conveyor
Heavy Duty Chain Conveyors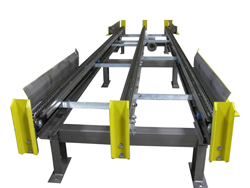 When handling many heavy loads and/or in harsher environments IK manufactures drag chain conveyors using 81X, 81XH, or 81XHH chain on either a formed or tubular steel frame. The chain pitch is 2.609" and side plates range in thicknesses from .155" to .310". This chain and chain conveyor is used in the logging industry, gypsum board handling, concrete block industry, heavy equipment manufacturing assembly lines, and in heavy duty pallet handling.
In many steel processing and heavy duty transportation or assembly conveyors IK engineers and manufactures conveyor using a variety of chains including an oversized roller chain. Some examples include CC5 chain, 89R chain, and S531 chain. These are often run on CRS wear strips welded to structural steel tube.
Standard Features
Tubular Steel Frame, 4" X 10" X 1/4" wall with top channel
Shaft mount drive
CRS Steel chain running surface
Heavy Duty Idler Sprocket 1-7/16" bore, two bearings, screw adjustable
81X, 81XH, or 81XHH Chain, 2.609" pitch and up to 3/8" thick side plates
Welded construction
Standard Options
End Drive
Center Drive
Deck Plates
Guides, fixed or adjustable
End Stops
Pallet Stops
Formed Steel Frame
To find out more information about this product line, contact us or request a quote.