Robotic & Infeed Conveyor Systems
We work with users and robotic integrators as a partner in our robotic interface conveyor projects. We ask many questions and want to provide our customer more than just hardware. We want to bring our experience in material handling to the systems design phase of the project. This involvement is to aid in the design incorporating the best material handling practices and in the system design and to manage equipment investment cost.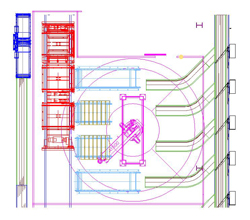 Robotic Infeed Applications
IK has developed and provided many products for many robotic conveyor systems applications. This includes the following industries or applications:
Pharmaceutical

Robotic tray loading and unloading interface conveyors - stackers and destackers

Palletizing

Layer forming
Bag infeed conveyors
Case turning conveyors
Presentation and accumulation conveyors

Process machinery

Part positioning for robotic pick (machining centers)

Automotive

Part presentation for robotic welding
Part presentation for robotic assembly

Agricultural
Food Industry

Pick and place receiving conveyors
Transportation, accumulation, and layer forming conveyor for robotic palletizing
To find out more information about this solution, contact us or request a quote.