Chain Driven Live Roller Conveyors
IKI chain driven live roller conveyor can be broken into two general categories, pallet handling conveyor or as heavy duty unit load handling conveyor.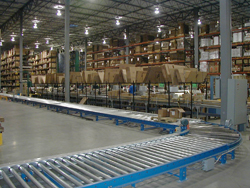 Standard Chain-Driven Pallet Conveyors
Standard pallet conveyor consists of 2-1/2 11 gauge pre-galvanized flo coated tube or 2-5/8 7 gauge plain steel tube rollers with spring loaded 11/16" hex axles. Sprocket plug construction is standard for many roller centers, ensuring accurate sprocket spacing and trueness. Deficiencies in sprocket spacing or trueness is the largest factor contributing to roller failure on a chain driven live roller conveyor. Our frames are punched on a CNC controlled punched ensuring roller centers and hole locations to +/- .002". These standard roller conveyors have pre-engineered accessories such as pallet stop, pushers, transfers, turning crosses, shuttles adnd centering devices.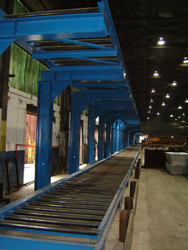 Heavy Duty Live Chain Rollers
Heavy duty unit load handing roller conveyor encompasses a large range of standard chain drive live roller conveyor. This includes a range of roller diameter from 3-1/2" .300" wall for 5,000 pound loads to 12" diameter with a 1" wall for 50,000 pound loads. This can be used in a wide variety of applications such as heavy engine / vehicle assembly and steel / metal processing and distribution. We offer many optional features as shock absorbing bearing mounts and accessories for impact loading sections and a variety of frame, support, and drive options.
Example of a Chain Driven Concave Roller:
To find out more information about this product line, contact us.
Download our Chain Driven Live Roller literature
read more