Bag Handling & Palletizing Conveyors
Industrial Kinetics has developed a large product line for bag handling. Much of this, was provided to ingredients, rice, fertilizer, and seed / feed providers in the filling and palletizing area.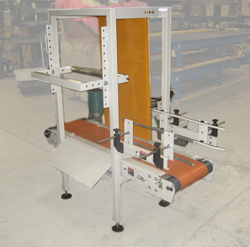 Our Manufactured Bag Handling Systems:
"V" Trough conveyors
Belt on slider bed
Bag Kicker Conveyors
Bag Turning Conveyor (Optional Lift)
Drum bag height limiter (drum bag flattener)
Opposing belt bag flatteners for palletizing or steep inclines
Bag infeed conveyors
Bag conditioning (shaping) conveyors for palletizing
Fiberglass spiral chutes, for quick decline of bags from high level transportation conveyor to palletizing
Square roller bag flattening (distributing) conveyors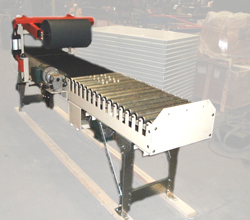 To find out more information about this solution, contact us or request a quote.
Bag Handling Conveyor Resources: