Mail Sorting Equipment & Machines
Industrial Kinetics is the manufacturer of Novak Mail Sortation system. Applicable in post offices, inter-office mail rooms, or any other lightweight/envelope sorting application, the Novak Sorter allows for quick and efficient sorting of large quantities of envelopes. In the provided pictures, you can see how the operator(s) distribute mail to the separate slots, and mail is then conveyed to independent picking stations where full bins can be individually removed and sent to a department, floor, or on a distribution route.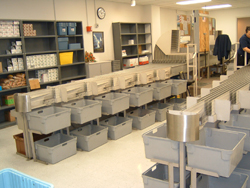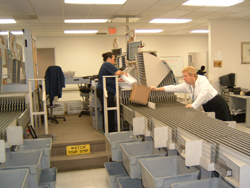 The Novak Mail Sorter's simple, reliable, and proven technology cuts down on foot traffic and physical sorting labor time, while sorting directly to the delivery container. The sorter also has an option for piece-counters, to keep track of incoming volume and sort rate. This piece of equipment is essential for any large-scale mail facility or inter-office mailroom.
With one motor, up to 36 independent belts are moved down individual lanes on a pulley system toward the accumulation bins. At speeds of up to 250fpm depending on the type of packaging, this is truly an efficient and high speed application to solve many mail room or shipping needs.
Download our Novak mail sortation brochure:
To find out more information about this product or to discuss your application, contact us, request a quote, or talk to a systems engineer at 630-655-0300.